Over the last eleven years, Owen Reilly has established itself as a leading property agency specialising in residential sales and lettings in the Docklands and the surrounding area. Building on our established expertise we have now launched a residential property management and PRS service for multi-unit developments.
Owen Reilly owes much of its success to date from fostering a personal, approachable culture led by the people in the company. We are now offering the same service to residents of multi-unit developments. Our aim is to build positive working relationships with all stakeholders, which means we are accessible, responsive and reliable. We believe this team-based approach is the best way to achieve positive engagement with stakeholders in multi-unit developments and can be gained without increasing costs to owners.
Russell Fleming is the head of the property management department. Russell brings thirteen years of direct management experience of multi-site portfolios across Dublin, valued in excess of €500 million, demonstrating a tremendous ability to support and maintain numerous business objectives over a sustained period in a diverse and fast-paced management environment. He has successfully delivered many large capital projects including fire safety upgrades, estate re-generation programmes and has also overseen legislative changes to Owner Management Companies.
Our central Docklands location perfectly places us for hands-on management of multi-unit developments in Grand Canal Dock and the IFSC as part of best practice of estate management. A local branch allows for the assistance of residents, direction and supervision of service personnel, improved response times for reactive issues, identifying proactive solutions and overall a higher level of service. Our branches in Portobello and Milltown enables us to also provide local property management services in other Dublin locations.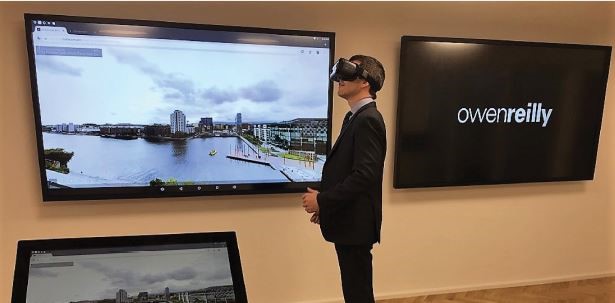 Owen Reilly is widely known for keeping up to date with the latest technology, which is evident from the development of our own online bidding platform and becoming the first property agency in Ireland to open a virtual reality marketing suite. For Property Management we are continuing this trend and have available, a mobile app with an innovative set of tools for simple, effective communication which enables owners and residents to check essential block information, communicate with their property manager, log maintenance requests, make communal interest announcements and track progress on maintenance issues. We believe that the technology we use will play a big part in offering the highest level of service in a clear and transparent manner to apartment owners and residents.
We would welcome the opportunity to discuss our property management services with owners and Directors of Owner Management Companies. To find out more about our new service please contact our head of department, Russell Fleming on 01 677 7100 or russell@owenreilly.ie. We look forward to hearing from you.
Link to featured article on IFSC.ie